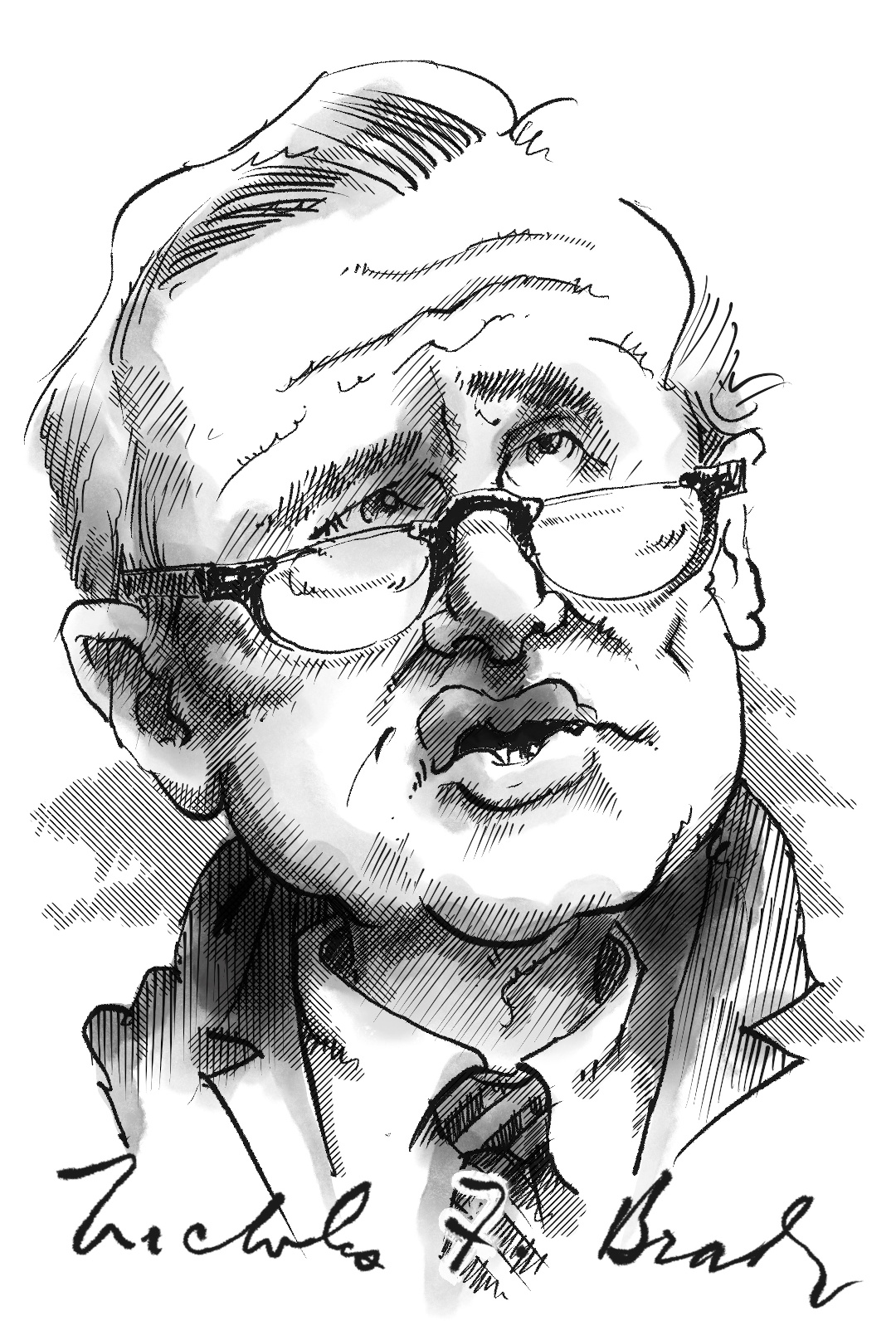 I remember when John Birkelund first came to Dillon Read in 1981 to serve as President and Chief Operating Officer.[1] [2] Dillon was a small private investment bank on Wall Street with a proud history and a shrinking market share as technology and globalization fueled new growth. I had joined the firm three years before and, after a period in corporate finance, had migrated to the Energy Group — helping to arrange financing for oil and gas companies who were clients of Birkelund's predecessor, Bud Treman. Bud was a member of the old school — an ethical man increasingly frustrated with the corrupting influence of hot money and easy debt.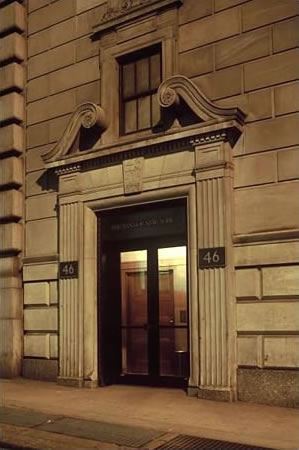 The partners' entrance to Dillon Read's offices on Wall Street at 46 William Street.
Courtesy Robert Gambee and his book Wall Street
This was a time of transition. Dillon's Chairman, Nicholas F. Brady, was considered one of George H. W. Bush's most intimate friends and advisors. Both attended Yale, both were children of privilege. Bush had left his home in Greenwich Connecticut and with the help at his father's networks at Brown Brothers Harriman had gone into oil and gas in Texas. Brady had gone to Harvard Business School and then returned to the aristocratic hunt country of New Jersey, where the Bradys and the Dillons had estates, to work at Dillon Read.
Bush climbed through Republican politics to become Director of the Central Intelligence Agency (CIA) during the Ford Administration. After spending four years displaced by the Carter Administration, Bush was now Reagan's Vice President with Executive Order authority for the National Security Council (NSC) and U.S. intelligence and enforcement agencies. Bush's new authority was married with expanded powers to outsource sensitive work to private contractors. Such work could be funded through the non-transparent financial mechanisms available through the National Security Act of 1947, and the CIA Act of 1949.
This was a secret source of money for funding powerful new weaponry and surveillance technology and operations owned, operated or controlled by private corporations.3 Carter's massive layoffs at the CIA had created plenty of private contractor capacity looking for work.4 An assassination attempt on President Reagan's life two months after the inauguration meant that Vice President Bush and his team were called on to play an expanded role. Meantime, Nicholas Brady continued as an intimate friend and collaborator from his position as Chairman of Dillon Read.5
In April of 1981, Bechtel, working through the Bechtel private venture arm Sequoia, bought the controlling interest in Dillon Read from the Dillon family, led by C. Douglas Dillon, former U.S. Treasury Secretary6 and son of the firm's namesake, Clarence Dillon. This was a time when Bechtel was facing increased competition globally while experiencing a decline in the nuclear power business that they had pioneered.7
We found ourselves with new owners whose operations were an integral part of the military and intelligence communities and who had demonstrated a rapacious thirst for drinking from the federal money spigot.[8] George Schultz, former Secretary of the Treasury during the Nixon Administration, and now Bechtel executive, joined our board.
Unusual things started to happen that were very "un-Dillon-Ready-like." First came a new bluntness. I will never forget the day that one of the partners brought around a very charming retired senior Steve Bechtel to tour the firm. Upon introduction, he peered up at me through thick glasses and said "Far out, a chick investment banker." Then came strategic planning with SRI International, the think tank offshoot of Stanford University that had long standing relationships with the Bechtel family and Schultz. The head of the Energy Group that I worked for at the time was part of the planning group. His mood changed during this period and he later left the firm, retiring from the industry. Before going he warned me that I should do the same. He never said why…leaving a chill that I have felt many times since as ominous changes continue that have no name or a face.
The planning group recommended that we expand our business into merchant banking. This means managing money in venture investment by starting and growing new companies or taking controlling interests in existing companies, including "leveraged buy-outs."[9] Rather than serving companies who needed to raise money by issuing securities, or make markets in existing securities, we were going to start raising money so we could create, buy and trade companies. A company was no longer a customer. They were now a target. Wall Street was its own customer who would raise money to buy companies who would work for us. This required new people with new skills.